Description
100% natural, come from the bottom of the oceans and carefully polished, breast shells are nipple protectors that relieve and reduce many inconveniences related to breastfeeding (warming, hyper-sensitivity, irritation, cracks …).
Breast shells are sold in pairs in a small linen pouch.
It is a 100% natural product, so they are all different in size, color and shape. Some may have small irregularities, which makes their authenticity (they should not be embarrassing).
CHOOSING YOUR SIZE
We recommend that you choose your size according to that of your areola. For Small and Medium size, do not hesitate to take a little wider than your areola, however, for Size Large and custom, the shell becomes heavier, it is recommended not necessarily cover the entire areola . Do not hesitate to contact us directly so that we advise you the best (06 62 27 22 01).
SMALL: Areola under 5cm (shells between 5 and 5,5cm)
MEDIUM: Areola between 5 and 6cm (shells between 5,5 and 6cm)
BIG: Areola between 6 and 7cm (shells between 6 and 7cm)
CUSTOM: Areola up to 7cm (shells between 7 and 8cm)
We can provide you with a bespoke pair (asymmetric, beyond 7cm, more or less shapely …) – If the size does not suit you, we exchange the shells for free (except return fees).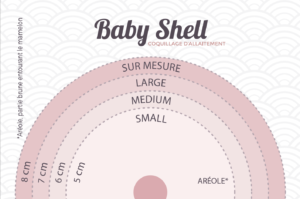 The plane is the brown, round, flat part that surrounds the nipple
DESCRIPTION
The BABY SHELL Nipple Protector is a shell made of mother-of-pearl inside and is 100% natural.
The breastfeeding shell is placed directly on the breasts and is held by the bra.
Real natural shield, its role is to protect you and limit some discomfort of breastfeeding and especially that of rubbing under and put the tips of breasts cool! The soft touch of mother-of-pearl does provide an immediate sensation of freshness, often perceived as soothing (according to many testimonials).
A few drops of breast milk poured into the hollow of the breast-feeding shell allow the nipples to bathe in it and thus benefit from its benefits.
If a skincare cream is used, it stays in contact with the nipple without the risk of staining your clothes.
The shell contains small losses of milk. It is therefore used for milk collection. For significant losses, place a breast pad over the shell.
The breast shell is reusable after simple regular washing (be careful not to boil).
Use the shell on healthy skin and wash your nipples before breastfeeding.
100% natural, they are carefully polished, then checked, calibrated and packaged manually in France.
The shells come from natural environments and come from different collection points located in Asia and the South Pacific.
SUGGESTIONS FOR USE
Wash before the first use, then regularly with water with a mild soap and rinse well with clear water.
Do not boil the shells and do not let cleaning products stagnate in them.
The breastfeeding shell should be used on healthy skin.
Do not sleep with them and avoid wearing them all day, even if you feel more beautiful with them! In fact, you risk sleeping by pressing on the shell that will then press the nipple and cause the rise of milk between feedings.
In case of redness, feeling of pressure it is likely that the size is not the right one. Contact us for an exchange.
In case of cracks, fungal infections or infections, consult quickly with your midwife or health professional who alone can determine the cause and help you treat it. It is important to adopt a good position during feedings to warn you of the risk of cracks.
Remove the shell and wash your nipples before breastfeeding your baby.
Do not use if you are allergic to mother-of-pearl or shellfish.
Do not used if they are damaged.
Do not leave within reach of baby and children.
Product manufactured and distributed by Baby Shell ©
DM Class I – DE 93/42 / CEE
All photos on this website are non-contractual and do not represent the exact size and colour of your Babyshell breastfeeding shells. Babyshell is 100% natural so there is variability in each product.