Description
100% natural, from the depths of the oceans and perfectly polished, these Babyshells will protect you from cracked and sore nipples.
The shells are sold by the pair with a linen storage pouch.
The shells are 100% natural so each one is different.
CHOOSING YOUR SIZE
We recommend choosing your shell size based on the diameter of you areola (the pink area around your nipple).
The shell should cover your areola completely.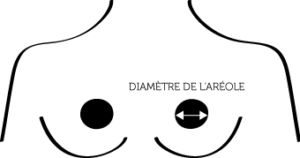 Medium is the size which fits most women.
SUGGESTIONS FOR USE
the shells should be placed directly on the tips of your breasts
the goal is to protect your fragile nipples and keep them cool! The smooth surface of the shell should give you a feeling of soothing freshness
sterilise or boil the shells before the first use
wash your shells regularly with warm soapy water
not recommended for prolonged or 24 hour use (not all day or all night)
let your nipples "breathe" as often as possible
discontinue use in case of infection or severe cracking and contact your midwife, doula, or obstetrician immediately
remove before breastfeeding your baby
do not used if known allergy to shells
do not leave in the reach of babies/children
you can add several drops of your breastmilk in each shell before placing it to benefit from the healing and antiseptic properties of your own milk
feel free to use your favourite cream or ointment in conjunction with the shell
the shells are reusable
they are 100% natural, polished and calibrated by hand
All photos on this website are non-contractual and do not represent the exact size and colour of your Babyshell breastfeeding shells. Babyshell is 100% natural so there is variability in each product.